Unlimited Norfolk on Safari 2016
Dana Pope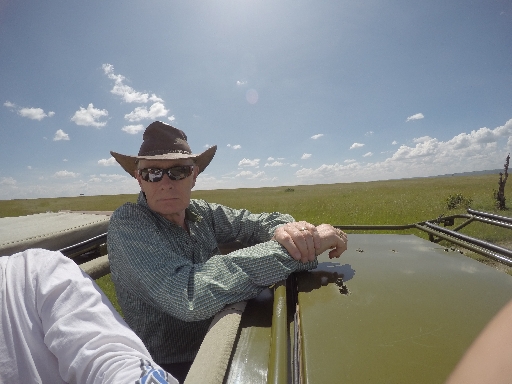 organized a horseback riding Safari in Kenya using Safaris Unlimited as the outfitter. The Safari took place starting December 30th, 2015 through January 10, 2016. We were 10 people all members of the Norfolk Hunt Club:
All travellers

Donald Kamenz (dkamenz@bellsouth.net)
Ina Kamenz (ikamenz@bellsouth.net)
Carolyn Pope (Csapope@aol.com)
Laurian Pope (laurianpope@gmail.com)
Dana Pope (Dgpope@dolben.com)
Cecilie Pope (pope@gmail.com)
Christopher Lawler (cplawler1@gmail.com)
Ruth Lawler (relawler@comcast.net)
Polly Kornblith (pk@wildstarfarm.com)
Michael Newman (mnewman@dragonnorth.com)

Slideshows and Compilations
These photos and video have been organized for presentation. This section is where people are telling the story of our trip.
Don put up a web story at https://goo.gl/photos/mLxv6cVNre2UVVsV7
Polly built still photos into a YouTube compilation: Slide Compilation
This later got improved to: Improved Slide Compilation

Polly's Animal Compilation
Animals We Saw
Birds We Saw
Comments
Chris Lawler
For those that are interested, here's some data on Kenya from the CIA. I was intrigued at the massive population growth (8 million at independence in 1963, 46 million today), and how they were dealing with it. To be a viable society, they have to employ most of these new people and, unfortunately, they are not. Unemployment runs around 40% depending on what source you believe. The only way they are going to employ such large numbers of people is to create new industries and businesses like China has done, and they seem far off from that. The good news is that they are having some success at growing their economy (over 5% per year for some time now), and the population growth has slowed (now under 2% per year). If they can keep this up, there is hope.
All of this is against a backdrop of corruption in the government which makes economic development challenging. In many cases, government sponsored projects are used to enrich the politicians which greatly hampers the success of the projects. The current president, Uhuru Kenyatta (educated at Amherst), is trying to change this, but the corruption is very entrenched. His own father (first president of Kenya after independence) played the game well enough to amass a family fortune of around $1 billion. Perhaps Uhuru, being more than well off, will see no need to further enrich the Kenyatta family, and will focus instead on helping his country. I would like to believe that.
The story in Tanzania is much the same, albeit at a smaller economic scale.
What a different world than ours. Makes you appreciate what we have despite our own challenges.
It also makes me wonder what the future holds for Africa. I can see it going either way with economic development being the linchpin. Having met so many wonderful Kenyans and Tanzanians, I will be rooting for them.
Dana Pope
It was a delight to spend our Unlimited Norfolk vacation with all of you. Friendships that grew stronger, shared adventure and ideas for future exploration.
Our family trip to Rwanda was a delight, spending 2 days with the silver back gorillas in the Volcano National Park on the Rwanda, Uganda, Congo border. There are numerous troops of gorillas that occupy these mountains shared by Rwanda, Uganda and The Congo. On day 1 we were on a steep slope with my legs spread wide, straddling the pitch and observing a troop of gorillas... one silverback male, 2 females and several young. A female gorilla, about 250 pounds, decided she needed to pass by us and the shortest route up the slope was right between my legs... such a hoot! Unfortunately, not captured in digital for future bragging stories. On day 2, a male silverback (about 450 pounds) being observed by our group from 15 ft. away, got up, decided we were too close, and came over to me and one of the guides. We dropped to the ground as instructed so as to not be a threat. The silverback gently pushed the guide next to me firmly to the ground and kept his hand on the guides shoulder for about a minute, before ambling off. These gorillas, which are viewed daily, are familiar with the guides and trackers, who keep daily watch on each troop. There is a relationship there of familiarity and while being very powerful animals, the gorillas allow us to be very close to them. The young will think nothing of playing within feet of us, under the watchful eye of the silverback or the females...
On to Uganda to the URDT (Uganda Rural Development and Training ) girls school in Kigadi, Kibaale province... http://urdt.net/ where Carolyn and I have been providing financial support over the past 20 years. The director of the school, Dr. Musheshe, met us at our Kigali Rwanda Serena Hotel and we drove about 400 miles through Rwanda, over the border crossing into Uganda and on to Kibaale District and into the town of Kigadi. The next few days took us through the Kibaale region, visiting graduated students in their villages who were using their training to better their families and local village. The school uses a shared vision strategy between parents and daughter, to teach improved living standards through sourcing of water, multiple crop strategies on the same land, create better housing, micro finance and money management, and creating surplus cash crops to create prosperity. One family we visited started with nothing as subsistence farmers 8 years ago, and now have 100 acres of land in cultivation and 20 employees. An extreme example of what can be done but one the school is proud of. The girls school graduates about 40 women per year. The parents have received training during this time as well. The girls go back to their villages, become "epi-center" leaders for the village and spread the knowledge learned to the entire group. At one village, after viewing the 20 acre plot the family had, we were invited to a gathering under a tent where 50 villagers were waiting for us. The women in the village, under the tutelage of the graduated student from URDT, had created 4 investment groups (each group had about 10 families in it) to pool their resources and create a micro banking fund from which they borrowed money to advance the URDT farming techniques on their individual plot of land. The male village elders were there to express appreciation to URDT and ask that the student who had trained them be kept on permanently as a URDT employee to advise the village going forward. This is the model of the epi-center program of URDT... to fund graduated students to become local resources in the villages in the Kibaale District, to lead them out of poverty. We saw many situations of families with absolutely no assets wearing tattered clothes living in subsistence in mud huts, working the land. Amazingly, all seemed happy and well fed. It does not cost much to live off the land...
If you have any desire to support the efforts of URDT, let me know. Mike and Polly have recently been introduced to the program, having attended an event this past summer held at my business partner's home in New Hampshire. The basic premise is to not give the villager a fish, but teach them how to fish... J. Our family gifts are made through the African Food and Peace Foundation... http://www.afpfonline.org/ which is a US 501c3, which supports URDT and ARU. My business partner's wife, Martha Dolben, has been until very recently, the Executive Director, leading fund raising in the United States.
For those women who are very intelligent and gifted, URDT created the first "all women's university in Africa" 2 years ago called ARU (African Rural University)..... http://aru.ac.ug/ This is an accredited university offering a degree in Bachelor of Science in Technologies for Rural Transformation (BSc. TRT). The graduating class was this past summer with 30+ women receiving their degrees. The hope is that these women will remain in the rural areas of Uganda and lead the effort of "rural transformation" of the people to a better standard of living.
The trip finished off with a visit Friday morning on our way to Kampala (the capital of Uganda), with an audience with the King of the Bunyoro Kitara Kingdom. Uganda is divided into 5 monarchy kingdoms which goes back to tribal history over the past hundreds of years. Similar to royalty in UK, you have both central government in Uganda and power and influence of kingdoms in Uganda. The two are not supposed to overlap, but of course they do. Musheshe knows just about everyone of importance in Ugandan government and royalty in the province in which the girls school is located. His efforts in creating an educational model of learning have not gone unnoticed. We met with both the King of Bunyoro ( a man in his late 60's) and his Prime Minister who spent substantial time with us after meeting with the King, to talk about history, culture, customs and the need for education in the rural areas.
An amazing adventure for all!.................... a bucket list trip for sure.............glad we went and enjoyed very much your camaraderie...................
Photos
All Kenya 2016 photo directories These are directories containing all photos taken. They are not edited to show a reasonable subset of photos or a slide show.
These photos were shot at full resolution on two GoPro cameras. One set was shot on a Hero3+ camera. All other photos were shot on a Hero4 camera. The links here are the complete unedited set of photos taken by Mike Newman. Once editing is done new links will be placed here that contain a more reasonable edited set of photos.
Unedited Directories of Photos
Gopro Hero3+ camera
Hero4 camera card #1
Hero4 camera card #2
Hero4 camera card #3
Hero4 camera card #4

Video
The complete set of videos is on the Video page.
Lots of video was shot on the GoPro cameras. Edited video is weeks away. To try out various methods of display several file types are presented here. In the tests shown here the MP4 file works and appears to stream properly. The AVI files try to download the whole file rather than streaming it.
Here are test fragments of a lion chasing birds in several formats: